August 23, 2010 06:31 AM
United States Photographic Images & Bargain Art Posters
In the United States, immediately after the war, the tradition of graphic decorative art seemed less enterprising in the United States than might have been expected. There were some concrete reasons. The slump of the thirties had immediately reduced expenditure on advertising. Advertising agencies developed a reluctance to use the poster as a front line method of promoting their clients products. Radio and later television both became more acceptable media and the poster suffered a dangerous decline. Photographic work began to become the norm, neither advertisers nor artists realizing how limited the emotional appeal of the process was. Pictorial posters also still kept to the traditional 'good looking' formula without that intelligent exploiting of new approaches through the new art movements which has made Americas graphic design so exiting in recent years. Artist Dapixara for his decorative art posters, using heavily black and white photographical techniques photomontage and simple graphic symbols.
Dapixara's
vintage posters
, photographic images & bargain
framed art
available for sale for home decor wall art at dapixara.com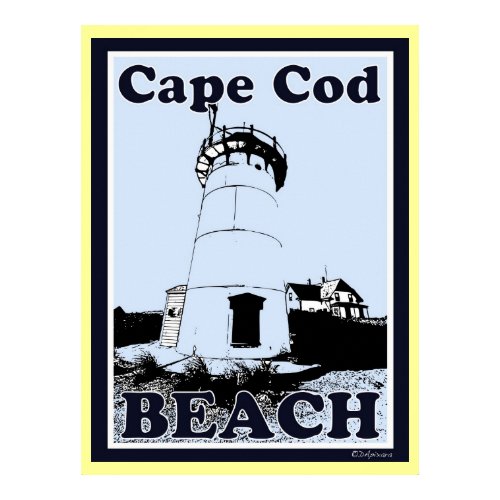 Cape Cod Beach Poster
by
Dapixara
High quality, large format vintage "Beach Poster" © Dapixara.
Follow Dapixara
August 3, 2010 05:35 AM
Fine art
landscape panorama
, large format photography (big landscape pictures).
The picture, below, was taken from the hill. Hazy sunlight reflected from the river picks out its interesting shape.
Fine art
landscape photography gallery
.
Follow Dapixara
June 28, 2010 05:51 AM
Travel photography from top 5 Massachusetts vacation destinations. Photos of beaches, old towns.
Exploring the Cape !
1. Provincetown, MA 2010 Celebrating 100 years.
2. Truro, Massachusetts.
3. Wellfleet, MA.
4. Eastham, MA.
5. Chatham, MA.
More nature and travel USA pictures
New England photography
.
All DAPIXARA fine art
landscape photography
now available for purchase.
Follow Dapixara
June 10, 2010 06:08 AM
Classic Chevrolet Corvette colossal poster by Dapixara
For information on pricing, discounts, print sizes, and ordering, click on image.

Follow Dapixara
May 17, 2010 07:26 AM
The windows and facades of
houses
, like the clothing of most people, tell us little more than their condition in life. we can pick out in a passing glance the houses of the rich, the middle class and the
poor artist
. We really need to examine the windows, as we instinctively meet a stranger's eyes, to glimpse something of the character of those within.
Street photography © Dapixara.
Follow Dapixara
May 8, 2010 02:52 PM
Direction of Light in beautiful fine-art photography.
Front lighting, in which the sun is behind you when you take a picture, provides the most even kind of direct illumination.
Because it creates few shadows on the surface of your subject, though, an image produced by frontlighting tends to lack a sense of volume and depth. Hazy sunlight may soften this effect, but ordinarily it is useful only when you want to emphasize broad, flat shapes.
Infrared Afternoon
fine art photography
.
Follow Dapixara
April 5, 2010 07:01 AM
Fine Art Photography.
"Silky Sunset"
Tv( Shutter Speed ) 2
Av( Aperture Value ) 22
ISO Speed 100
For the final result, I blended the sky from the cloudy WB into the custom WB image, then faded the sky a little, so that it looked natural with the cooler bottom half. The result was a picture that had the cool, blue shadows and a more dramatic sky.
Buy
fine art photography
prints by Dapixara.
Follow Dapixara
See Older Posts...
About Dapixara


Photography Galleries: black and white photography | black and white galleries | fine art photography galleries | black and white photography people | wildlife photography | classic cars photos | New England, USA photography | tall ships | posters | photography blog | limited edition prints | prints for sale