August 23, 2010 06:31 AM
United States Photographic Images & Bargain Art Posters
In the United States, immediately after the war, the tradition of graphic decorative art seemed less enterprising in the United States than might have been expected. There were some concrete reasons. The slump of the thirties had immediately reduced expenditure on advertising. Advertising agencies developed a reluctance to use the poster as a front line method of promoting their clients products. Radio and later television both became more acceptable media and the poster suffered a dangerous decline. Photographic work began to become the norm, neither advertisers nor artists realizing how limited the emotional appeal of the process was. Pictorial posters also still kept to the traditional 'good looking' formula without that intelligent exploiting of new approaches through the new art movements which has made Americas graphic design so exiting in recent years. Artist Dapixara for his decorative art posters, using heavily black and white photographical techniques photomontage and simple graphic symbols.
Dapixara's
vintage posters
, photographic images & bargain
framed art
available for sale for home decor wall art at dapixara.com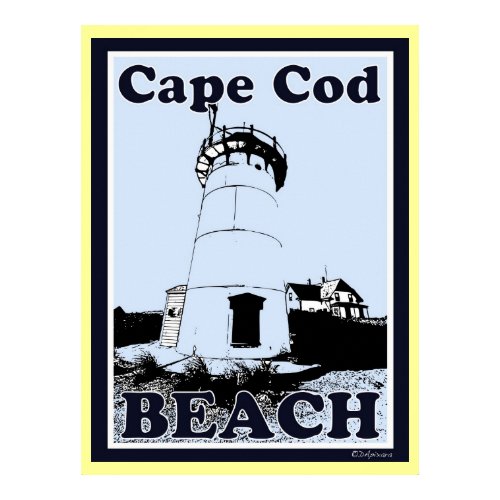 Cape Cod Beach Poster
by
Dapixara
High quality, large format vintage "Beach Poster" © Dapixara.
Follow Dapixara
August 16, 2010 06:32 AM
New York Black and White Photography
NYC street, Times square black and white photography with selective coloring, New York taxi.
New York
photography black and white
canvas prints for sale available at dapixara.com. View pay and print online
framed wall art
.
Follow Dapixara
August 10, 2010 07:08 AM
All black & white photography art prints, posters and framed
wall art
photos comes as:
. Canvas Prints
. Framed Prints
. Posters
. Originals Limited Edition Prints
. Canvas Prints, Stretched Canvas
Best sellers
posters & prints available for sale at dapixara.com.
Cape Cod National Seashore, Autumn Sunrise - photography black and white.
Follow Dapixara
August 3, 2010 05:35 AM
Fine art
landscape panorama
, large format photography (big landscape pictures).
The picture, below, was taken from the hill. Hazy sunlight reflected from the river picks out its interesting shape.
Fine art
landscape photography gallery
.
Follow Dapixara
July 26, 2010 06:37 AM
The most successful
black and white people photography
are those that do more than provide alikeness, capturing the subject's personality. Even the portrait of a stranger can have an emotive charge, simply because we glimpse the subject's character or the photographer's view of it.
Black and White People Photography
What
black and white photos
can do better than color. Black and white creates an immediacy and authority, particularly with faces, that often surpasses that of color. It also allows the photographer great freedom of interpretation.
Follow Dapixara
July 19, 2010 05:20 AM
Black and white photography does not seek to depict reality with accuracy, or even to imitate it. Nor is it a substitute for color Its is simply another way of seeing
subject matter in photography
.
We must be able to judge whether, for example, an walking man on the beach stand out from the sand around it or will prove distracting.
In this
photography landscape
the strong side light of early morning has produced large areas of deep shadow in the beach sand.
Good subject matter in photography - walking man on the beach.
Black white landscape photography
brings me comfort feeling and good memories about Cape Cod Nauset Beach.
This
photography fine art
available as
canvas prints
, for your nautical home decor.
Buy photography online
artwork prints & canvas prints, posters at dapixara.com
Follow Dapixara
July 12, 2010 06:26 AM
Black and white flowers - Over White Lily.
This beautiful framed photography great for kitchen and dining room. My wall color recommendation - light green.
Black and white flowers prints available sizes from 8.00" x 6.63" to large format photographs 60.00" x 49.50".
dapixara.com offers custom framed fine art
large format photography
prints and gallery of best sellers
framed art prints and posters
.
Follow Dapixara
See Older Posts...
About Dapixara


Photography Galleries: black and white photography | black and white galleries | fine art photography galleries | black and white photography people | wildlife photography | classic cars photos | New England, USA photography | tall ships | posters | photography blog | limited edition prints | prints for sale